"Bare Square Behinds' Catalogue Essay
Nov 1-23 2001, Patrizia Autore Gallery

In Jade Walsh's art from the heart and by the hand, carefully chosen words float on portraits of strangers. Scenarios play across these green fields and pockets of colour. Walsh has stitched and soaked the surfaces with emotions so familiar it's as if our minds our being read. Jazzy, scented and romantic messages arrange themselves in modules. Paper, fabric and printed surface are layered and pressed into stylish images with seductive appeal. Distinct and succinct sagas evolve (She watched the telephone) Textures and mark making expose imperfections. Some messages are made clear, others are crossed out and re-written. Like the artist, the works are cluttered with humour, sensuality and innocence. Love, insecurity, protection and honesty are played out in her life and works.

Sally Esse
Art History Lectuer, Swinburne Univeristy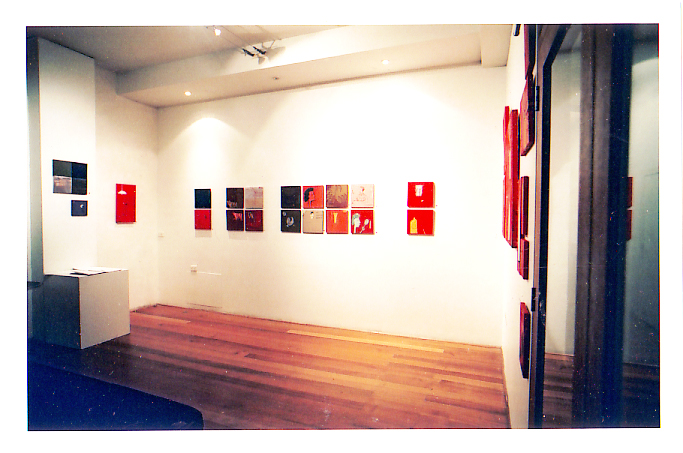 ---
'Pretty Funny Alone' Review
AC Institute, NYC Sept 12-Oct 2, 2013
Loneliness is not for the faint of heart, nor is watching the often cringe-worthy attempts of the lonely to connect with another human being, as artist Jade Walsh can attest. For Pretty Funny Alone, at the AC Institute in New York, Walsh put loneliness on display in the form of a mixed media installation and performance. Photographs of thorny cacti, unattractive gas stations named Bachelor, and prints with embroidered reminders to not take things so personal evoke the intimate thoughts of the artist attempting to recover from heartache and navigate the world of dating.
The installation, along with a series of performances and interactions organized by Walsh during two weeks in New York are the artist's attempts to abandon herself and entrust her artistic creativity to strangers in hopes of building something meaningful. Not many of us are so brave. But Walsh banks on most people feeling lonely and shy and yearning to reveal another side of themselves.
She arranged a speed dating event at the AC Institute for single people who liked to draw. Walsh moderated the event wearing a pair of Cupid wings while eight participants, all strangers to one another, drew responses to questions about themselves in a whirlwind of crayons, paper and timers. For Walsh, removing herself from the dating process as host and organizer re-energized her performance as it was no longer about her. Similarly, in her Actions for No Action: Free, Walsh arranged for short conversations with strangers at a pre-designated bar. Dressed as a scientist with a clipboard, Walsh timed the conversations. When the event was over, and a latecomer arrived, Walsh left the event up and open to others to fill her place. She provided a starting point and opened up a space for conversation that the rest of us might join in.
The installation and performance are paired with a video of the artist in her studio. Walsh, sometimes glimpsed nude, rolls around in fabric and grunts with the abandon of one truly alone and unwatched. The swift cutting montage of studio scenes disrupts a cohesive narrative. The material of her art, fabric squares and tulle, flutter around Walsh and partially protect her from the camera. But the video suggests a frustrated playfulness of a woman who is an artist and begs the question; is there a productive purpose and meaning to loneliness? For Walsh, the very personal answer is yes.
Nicole Bebout
Curatorial Associate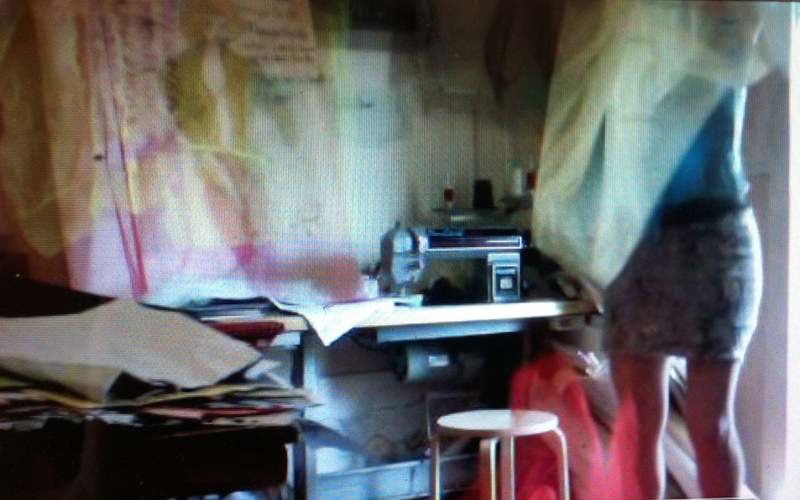 ---
Featured reviews & articles in online:
Lo Fi High: Art + Zines Exhibition Review
Jade Walsh + Zines Interview by Robert Scholten 2018
Drawing Board Exhibition Article by Siobhan Calafiore 2017
Romance Lane Article 2016
Attraction Mechanics Article by Tamara Heath 2014
Museum of common problems review 2012
Featured articles in print: